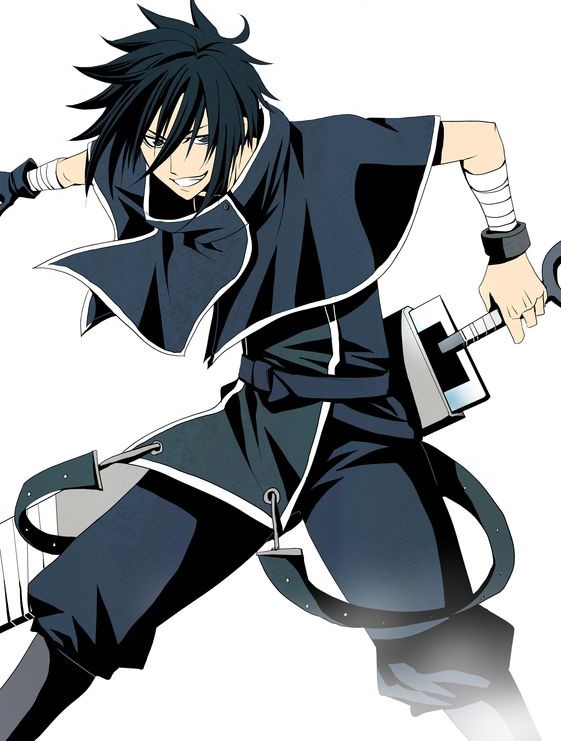 Name:
Tsuyoiito Keiji
Nick Name:
The Hidden Blade
Age:
Eighteen
Gender:
Male
Clan:
Tsuyoiito
Bloodline:
Tsuyoiito
Origin:
Gekkousato
Village:
Gekkousato
Appearance:
Keiji is a lean, well-built young man of average height with dark green eyes, and black-colored hair. He usually wears form fitting black pants that are looser in the crotch to allow for greater freedom of movement, a from fitting black travel shirt that has its sleeves end at the elbow, and a dark shawl like flak jacket of unique design, which holds his spools of threaded hair in specially sewn holsters hidden inside the shawls lining.  He carries his Mari-Blade on the small of his back, in a blackened iron sheath at all times. He has two pouches on either leg that hold various scrolls and ninja tools. His feet are covered in black steel toed boots that have hollow soles that can hide ninja tools inside. His frame is lean and well muscled leading to a more swimmer like frame, which is useful to him for his fast and acrobatic combat style.
Height:
5'8"
Weight:
160 lbs
Personality:
Keiji believes in strength gained by oneself through training rather than acquired by other means, like body modifications or the like, looking down on Ninja who do so. He is extremely loyal to Gekkousato and most of the time he focuses on training to improve his weapon skills. He is overconfident and thinks very highly of his abilities, going so far as to be mildly insulting at best when fighting other Shinobi, criticizing their techniques as he goes. He has a deep and resilient pride in being a Ninja and can not tolerate anyone thinking they are above him. Keiji believes in the warrior code of conduct and hates unfair means such as ganging up on a target, preferring to fight in one on ones even in team up fights, going so far as to harm his teammates if they try and assist him. Although serious in his mannerisms at times and courteous and friendly to those who he does not consider his enemies, he can be judged as cruel after his way of fighting is usually meant to systematically cripple his opponent.
Likes:
List 3 of your characters likes
- Dango
- Training
- Weapons
Dislikes:
List 3 of your characters dislikes
- Lightning
- Dogs
- Rogue Ninja
History:
Keiji grew up in a pretty typical early childhood unique to those that belong to elite ninja clans, as he was trained how to use his clan's jutsu simultaneously to his academy days, however he was also taught all about the clandestine art of bounty hunting as that is the primary focus of his clan. From a young age he was taught how to grow up and become an elite hunter-nin like his ancestors before him, learning how to suffuse his hair with chakra and control independently to his own being. He was schooled in all manners of weapon arts having to learn how to use whips, kunai, shuriken, swords, staves and bows to such a degree that handling them became as simple as breathing to others. Even in his short life of eighteen years he cannot remember a time that he didn't have a weapon in his hands.
After graduating from the academy he has been working in the shadows for Gekkousato, and his clan the Tsuyoiito to become a Hunter-Nin in training, having gone along on several of those missions already as an observational and recording ninja, to capture accurate statistical data about the encounters. Each mission gave him a breath of new knowledge to learn and grow with, giving credence to his goal of one day clearing the Bingo Book. He has recently been released from his apprenticeship to go out and experience the world and form bonds with his fellow ninja, this being a standard tactic of the Tsuyoiito clan so that they could operate better as hunter-nin by forming social networks for information.
Face Claim:
Saizo Kirigakure from Brave Ten.
Owner:
 Genkumaru