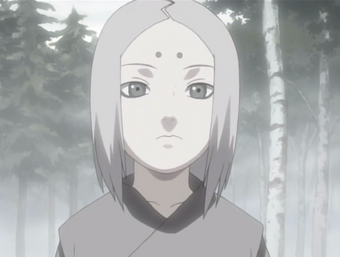 Name: Adam Kaguya
Nick Name:'The Bloody Bone'
Age:10
Gender:Male
Clan: https://sg-rpg.forumotion.com/t1937-kaguya-clan-moon-village-clan
Bloodline: Shikotsumyaku | Bone Manipulation
Origin: Gekkousato
Village: Gekkousato
Appearance:
Spoiler:
Adam is seen by his pale skin, vivid green eyes, angular facial features, two scarlet dots on his forehead which all the members of his clan possessed, and shoulder-length white hair, which he wore divided down the middle on his head (distinguished by an atypical 'zigzag' hair parting) with two separate partings on either side of his face.
As a child, Adam's hair is longer, which is tied in a loose pony-tail near the middle of his back, though the initial style was very similar to his later one.

He wears a specialised version of the his traditional clans ensemble, consisting of a light lavender, loose-fitting, long-sleeved, zip-up shirt, black pants cut off around mid-calf, bandages wrapped around his ankles, traditional shinobi sandals, and a purple, rope-like belt tied in an inverted bow around his waist.
He also wears two red, tube-like hair ornaments; one on either side of his head, securing two locks of his silvery-white hair.  
Height: 5'3 ft
Weight: 45Kg
Personality:  Quiet. During his life of solitude adam rarely talks unless its necessary or serves some type of cause to his benefits.
Being alone nearly all his life made him appreciate silence to the fullest. He is really a very calmed person when not provoked, analysing everything with great conception and detail.
He is most relaxed when he is on his own, this is normal because he could be quite excited to fight when he is around others, usually to the death.
His clan blood flows through his veins, and being one of them, he cannot say no to a fight unless under harsh circumstances.

Blood Lust Rage. when his PTSD flares up he is quite the sinister. He reverts back to his cruel and evil personality. Very sadistic but in reason. It's the only time he has some sort of smile on his face is when he is taking pleasure in reaping the weak of their lives.
Whether it's the smile from the pleasure of fighting, or the thrill he receives from chasing down, tracking and finding out the name of a target. Adam becomes the predator and always get's his prey type personality.  
he knows his weakness is going over board. Adam really becomes unstable and forgets the duration of fighting as its natural to him, and could end up killing people even in spars.
Likes:
- Fighting; Anything close to near death.
- Training; He believes the body is the weapon.
- Shadows; He loves the night and darkness.
Dislikes:
- Sunlight; Adam spent most his life in a cave.
- Laidback People; He cant understand the flow.
- The Weak; He believes the weak will always perish.
History: ~~The Childhood Arc~~
It was the worst birth a kaguya could get, once born, he was left in the hospital unneeded. Adam is a direct descendant of Omumaru, his mother and father were unknown to  him, they both lived and died in service to the eclipse special forces, to them the baby kaguya was a mistake.
Growing up as an orphan life was passed hard for him, he had tattered clothes and hardly ate but his survival instinct was sharp. He was always in fights around the village and he won most of them until it got too much, adam retreated to live a solitude life away from everyone in a cave not far from his clan home. When he was 6 he was found and adopted by an old lady who took good him care, she nurtured adam troubled habits and gave him a sense of stability. Her knowledge was the only thing keeping adam from going berserk, he eventually learned of his kaguya heritage and was thankful to her. Not long after in adams early years, the old lady died form a serious illness, he was so sad because she gave him his name Adam. From that time forward he was found by his clansmen in the cave and noticing his traits and seeing his will to fight trained him to be used for their tool.

~~Academy Arc~~
As he joined the academy he was always nervous of everything, he was weak mentally, but physically he was strong. Adam was a strong silent type so he never made much friends.
Many jounins and chuunins thought he wouldn't make it through but Adam was a genius at taijutsu, but he never showed it.
He hid his thoughts behind his emotionless face, he couldn't be bothered to train with the normal students because he would end up hurting them, all he did after academy was to be used by the clan to perform cruel acts or be used in illegal village fight clubs to make money, so survival and instinct was built into him from young. One night he walked around the moon village like usual, he had no home, on his thoughts was the killings that has been rampant around the moon village. He then got attacked by a large swarm of bullies who followed him waiting for their chance to attack, this got Adam so blood crazy he completely beat up the brutes in a battle royal. This encounter gave the young kaguya PTSD which slower only got worse as he grew. When the kaguya reached the age of 10 years old, he showed great skill and thus he was made into a genin.

~~Genin Arc~~
Having been through a lot, Adams very much a ticking time bomb waiting to go off, hes not been able to be assigned to a sqaud because of blood lust outbreaks due to his PTSD, but is still waiting to be placed. Now a respectable genin of the moon village, he made sure to wear his clan garments all the time. His life has forced him to love the shadows and because of that, his goal is to be the leader of the eclipse and the kaguya clan.
Face Claim:
Kimmimaro
Owner:
Adam Kaguya
Last edited by Adam Kaguya on Mon Jun 08, 2020 11:27 am; edited 1 time in total