Ladies and Gentlemen! Boys and Girls! Proud and Humble Shinobi of all ages! Gather around and listen to the cries of your inner child! Flow to the sound of the laughter, the cadence of frolicking crowds. Dance to the rhythm of the drums and feast your eyes on the burning braziers around us! WELCOME ALL to the Buyuu and Son's Carnival and Traveling Circus! Be kept at the edge of your seats while you're thrilled and wowed by the perilous acrobatic feats that would impress even your village leaders! Marvel at our performers' spectacular talents ranging from our very own Strongman, capable of carrying two tons of stone on his back with ease, the Elongated man, who can grow the size of a mountain, or shrink to fit inside your palm, and to our very own eccentric Mysteria, our enigmatic performer with multiple limbs, several heads, and quite a few appendages, and many more! But, wait! COME for our live musicians, the carnival rides, the drinks and popcorn, or to win your baby momma a nice stuffed prize, saving you from that dreadful couch tonight… but STAY for our main event where our audience will have the chance to become our most popular performers; all for the shot to achieve glory, fame, and for the prospect of taking the title known as this season's famous "Beast Hunter!" The renowned and awe-inspiring "Taming of Beast Event", which will be hosted by yours truly, your beloved Ringmaster: Buyuu and Son's!
Come join us at the greatest show in all the Ninja Lands

During the day, the smell of buttery popcorn and the sound of laughter assails the ears. At night, the smell of roasting meats and carnival's scintillating lights draws the eyes and nose to every corner of the square. With flying ribbons and flags in the air, everyone is dressed in their fashionable best to carouse and rejoice with the rides, games and street food.
A carnival wouldn't be very festive if there weren't any rides around to enjoy! Test your strength with the hammer high strike! Test your bravery upon the pendulum! And for those who are still a child at heart, a carousel, a ferris wheel, and a twirling swing ride that makes you feel like you are floating through the afternoon air! Only those without joy in their hearts would miss out on all there is to offer here.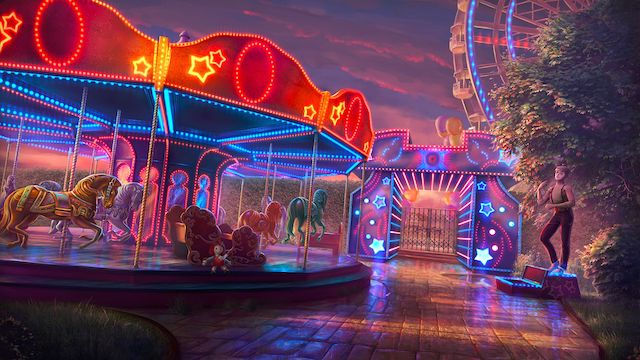 While casual dress is certainly allowed, festival attire is encouraged. Come adorned in your brightest colors, headpieces, masks and jewels, and let them sparkle in the light of the lanterns as you enjoy both rides and games. Catch goldfish with a thin paper scoop, use a paper hook to collect toys out of a pool of prizes, impress your friends with a senbon and balloon competition or chance it all with a ring toss! This is the time for great but harmless risks and tantalizing rewards!

Midnight fireworks displays celebrated with sparkler sticks in every attendees hands are a radiant end to a day of amusement and recreation. For variation and visitor inclusion, a bidiurnal paper lantern release is also performed at dusk. People may decorate their own, dedicating them to lost loved ones or future wishes before sending them off into the sunset. Rows of vendors from around both villages gather and sell freshly cooked yakitori, takoyaki, warm pretzels, frozen mochi, chocolate bananas, cotton candy and other delectables.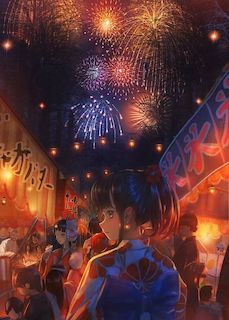 The evening fireworks shows will culminate with a final gathering in celebration of the Promotion exam and the name days or rather the days of births of our brave and honorable shinobi. Food and drink are provided and transforms the end of the night into a celebration and remembrance for another passing year.
Summer Birthday List:

Names listed on this scroll are eligible to claim a Birthday Bonus as SG celebrates with you another Year of existence in an otherwise bleak and meaningless void  

   If your name is not on the list but you are still celebrating a birthday you may still claim the prize

A birthday Bonus Includes:

A pop tart - New edible pastry only recently introduced to our noble Shinobi lands.

100 RYO

20 EXP
*These missions are considered special event types and do not count towards your weekly mission limits. Which means these can be completed even if all mission slots have been allocated prior to the mission start. These special missions must be completed with a group. In order to move through the missions you must do them in order, completing the first mission before moving to another. *
Event #1:


Name: Who Let The Dogs Out
Rank: -
Participants: Sun / Moon Village
Type: Group Event
Reward: 35 EXP 30 RYO
Location: Kataki Road
Details: The Traveling Circus has seen better days. With rumors of suspicious events following the renowned traveling carnival, attendance has dropped to an all time low! To make matters even worse someone has broken off the special fuinjutsu seals that contains a certain beast in their cage! Fortunately, most of the beasts have been accounted for excluding a dozen offspring which have managed to evade capture by fleeing into the nearby woods. Capture these infant creatures before they come to any harm!
Requirements:
Group- Each person must post at least three times, with a 800 word count total.

Event #2:


Name: Investigate the Disappearance of Circus Guests/ Children  
Rank: -
Participants: Sun / Moon Village
Type: Group Event
Group: 35 EXP 30 RYO
Location: Kataki Road
Details: It seems that there is more to this traveling circus than meets the eye. Small villages and towns have reported a rise in missing townsfolk cases suspiciously correlating with the arrival and departure of the traveling carnival and show. Be that as it may, village officials have yet to find signs of foul play against the head of the circus or suggestive evidence that would link the circus members to the uptick in disappearances. Townsfolk are implying that their local officials do little to investigate the disappearances due to their lower social status. New intel points to the possibility of a human trafficking syndicate shadowing the carnival as it moves from town to town, possibly abducting woeful individuals and children under the guise of the night. Although the village does not expect the shinobi assigned to this mission to uncover the syndicate on their own, gathering of information and/or the capture of criminal individuals associated with it for further interrogation will greatly aid the village in their attempts at crushing the trafficking rings spreading across the lands.  
Requirements: Event Mission #1 completion
Group- Each person must post at least three times, with a 800 word count total.
Event #3:


Name: Heralds of Murder
Rank: -
Participants: Kataki Road
Type: Plot Mission (leads to future event)
Reward: 35 EXP 30 RYO
Location: Sun / Moon Village
Details: A heavily mutilated body has been found behind the Ringmaster's Tent at the conclusion of the evening show! The 8 foot tall strongwoman, known as Giganta for her incredible strength and considerable physique, lies dead in the grass with the Ringmaster's dagger plunged through her chest. The scene of the crime is filled with muddled proof, crimson stains upon the Ringmaster's Tent and an abundance of prints in the locale. A gathering crowd reacts loudly, some staring in horror while whispers of murder and rumors of passion fill the air. The gossip says the Ringmaster retreated towards the northern woods, but shinobi know witnesses in a crowd aren't always the most reliable. Others point out a trail of blood heading back into the complete opposite direction of the woods. Act as a detective and locate the suspect, discover new evidence, or comb the woods for anyone potentially responsible for this atrocity before they happen to get away, or worse... strike again!
Requirements: Events #1 and #2 completion
Group- Each person must post at least three times, with a 800 word count total.
Through out the month of August, the village will be transformed into a festive celebration. You may have any of your topics reflect this flavor by including aspects of the festival in your writing. The missions can be completed by groups out on the Kataki road, while any topic inside the village or on the road may include the circus.
In addition to the circus, we will have several other activities that will run parallel with it. All events will be open during the month of August and running alongside each other. These extra activities can be found below.
Intervillage rp without travel topics
Promotion Exams!
SG Activity Check
Advertisement Contest
Promotion Exam Raffle