Spoiler:

NO POST ORDER- OPEN To all Sun Villagers

Name:

Alana Zanuko

Nick Name:

Yondaime Nikkoukage (Fourth Sun Shadow)

Age:

30

Gender:

Female

Clan:

N/A

Bloodline: Scorch ReleaseOrigin:

Nikkousato

Village:

Nikkousato

Appearance:

Alana is a big woman, but not in the unhealthy sense, in fact its quite the opposite. Due to her rigorous training in the desert and constant work out regime, she has built herself a very toned and muscular body frame. Many often are intimidated by her presence just because of how domineering and over shadowing she is. Her toned build is graced with long flowing red hair, as it drapes itself across her shoulders. Her piercing orange eyes glow from beneath her hair, and show a dominating presence. She is almost never seen without her armor or battle gear, as Alana likes to keep a level of professionalism in the eye of the public. She is not a tyrant, but commands respect, and this can be seen in how she dresses, how she walks and how she holds herself. Her outfit is normally clad in armor and gear, fitted with sword and shield, her most well known weapon combo.

Height:

5'11"

Weight:

154 lbs

Personality:

The Nikkoukage is very strict, business like and demanding. She likes things to be done a certain way, and will not allow failure. She believes in strength and honor, and those that slack off or shirk their responsibility are not worth the time. She leads with love through strength, and compassion for those who earn their stay. Alana is all for her village, and takes every oppurtunity to better their lives or make the village even stronger. This can be seen in her combat as well. The sun baked kage is relentless and ruthless, taking no mercy on evil and providing no forgiveness for those who have wronged her people.

Likes:

- Swimming

- Boxing

- Tea

Dislikes:

- Massages

- People with to many feelings

- Cats

History:Face Claim:

Leona - League of Legends

Owner:

NPC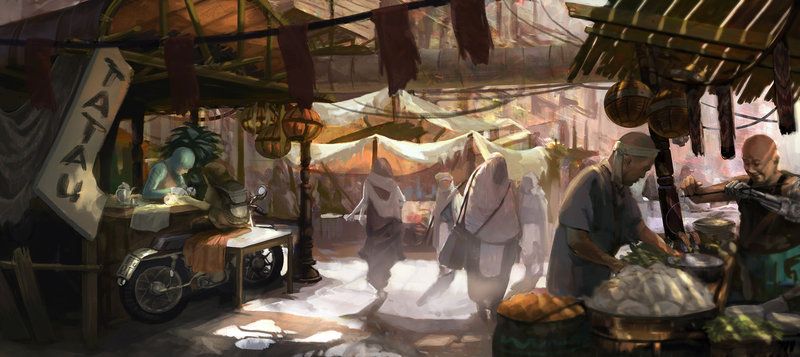 The sun had reached high noon by the time the marketplace had swarmed with peddling merchants, food stands, and the local shops that had set up extended displays throughout the market square. The dry air and the unforgiving sun had made the day rougher than most, the humidity in the air visible to the naked eye as the heat from the sun bounced off the hard barren sandy lands. Alana made her way down the narrow streets slowly and calmly, her large double weaved hard shell straw hat offered her head the protection from the weather she would desperately need in the worsening heat. As she walked an aura of authority consumed her, her muscular tone and upright posture made her appear larger than life. Her long golden hair and the elitist mannerism as she walked gave her an awe of divinity, that captivated all those in her presence. Her loosely fitting white and orange Kage cloak clung over her shoulders, pressed against her obsidian armored plated vest and covered her almost entirely, with the exception of her white fluffy furry slip ons she had decided to wear on her stroll, contrasting heavily her usual attire.  
She held her head high as she walked down the crowded marketplace square, to the awe and amazement of the passing villagers, many of them recognizing her stopping and bowing to her presence as she moved down the street. Directly behind her a small man in a black suit followed her nervously , carrying a small bag and a few items Alana had purchased along the way. A dog with its tail tucked between its legs, the pale black haired man wore large glasses that continuously slid down his face as he walked, he appeared middle aged, and although frail in physique appeared competent enough to work closely with village elites.
Alana stopped in front of a small boutique that sold designed fiber glasses, all which exaggerated the SUn village emblem in its own unique form. Grabbing one from the counter she raised the clear glass to the sun, allowing the beams to alter their colors as the rays bounced and ricochetted off the glass and thought the insignias colors. She found herself amazed by the small glass trinket, the sun emblem had been an insignia she had always adored, a symbol of her patriotism, her loyalty to her village. After a few moments lost within the craftsmanship of the glass, she looked over to her assistant silently ordering the man to purchase the object of her desire. Alana turned over to the glass merchant, a elderly man in his 60s, that wore only a thick slash over his wrinkled frame. Flashing him a smile, she bowed to him before folding his hands within her own kissing them in gratitude. "Thank you. Your service honors this village."
She walked along the various store fronts, ever so often stopping when an item caught her eye or an elderly villager deserved her praise. She was quiet throughout her shopping, cordially returning the bows and introductions of passing locals, at times accepting the complimentary sample of a shops dish. She had created a name for herself in her short time as Kage, an image of demanding and militant leader, but she was not without her own vices and far from the unkind mask she often wore . Although often reserved, rarely seen outside her own office or her training dojo she found pleasure and euphoria basking in all the sun markets had to offer, and steadily following the overall trends and feel of the villages.
By the time she reached the lower half of the market her assistant had begun sweating profusely as he juggled the innumerable amounts of bags and boxes that were continuously stacked over him . Along the way he was careful, avoiding dropping anything and muting his struggle to avoid provoking the ire of his Nikkoukage. She was a frightful sight already, just peacefully shopping, imagine a women of her  large muscular tone and frame reacting to her broken belongings. The very thought sent chills down his spine, as perspiration filled his brow. As he pictured his Kage fuming, he became distracted, unaware of Alana's sudden stop in the middle of the road.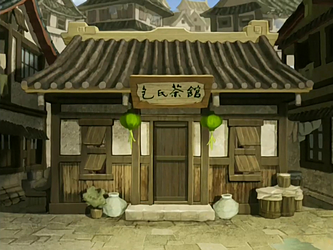 Alana looked up, her eyes widening in excitement, before them a large antiquated tea house stood in between a local ramen shop and a small gaming shop. The tea house was small yet cozy, its rural feel adding to its quiet charm. The design was fairly basic A stone step, two wooden pillars flanking the door, and an overhanging welcome sign marked the entrance to this small shop. Lanterns decorated every table, with plush pillows in place of seats. She would have jumped in excitement were she alone, but settled for a warm smile as she turned to meet her assistant. Before she could however, the over encumbered  assistant bumped into her, slightly shoving her forward. Fear washed over the assistance face as Alana turned to face him, her face cold, her right eye twitching…
"Do I need to cut your eyes out and transplant new ones for you Tero? or is knowing where you are walking too much to ask of you?"
"No Maddam Nikkoukage, the boxes stacked obstructed my view I—"
"Did I ask you for excuses ?"
"No ma'am "
"We will be settling here for the rest of the afternoon… I haven't had authentic desert tea in ages."
"Is it wise madam ? What would the elders think, or the villagers in general the Kage lounging in such a lowly place when—"
"I didn't realize I needed the approval of Elders or locals to roam about the village."
"No ma'am, I just though it might be unsafe if—"
"Unsafe? What sort of Nikkoukage would I be if I or anyone should feel thretened within their own village, What use do these big walls and strong shinobi have if a child can't freely move about without fear of being attacked in my street. Tero, how little do you think of me!"
"No madam Kage I did not mean such dis—"
"You'd best hold your tongue Tero, before I hold It for you."
She flashed him another look, this one wicked and nerve wrecking, sending Tero into a spiraling fear induced funk that left him shaking at his knees. Alana walked forward, slowly entering the tea house, taking a seat by the door. Upon realizing who his guest was a large oval shaped man rushed to the two bowing excessively before rushing his staff out to formally address her.  At the conclusion of customary formalities the owner of the shop brought his Kage a silver tray lined with fine china. Waitresses lined up holding different hot kettles with a selection of fresh tea's for their esteemed guest.
"Madam Nikkoukage, You've honored me and my family with your presence here. If I knew you'd be in attendance I would have reserved the whole shop for you. Please try out all our specials, we will serve you our whole menu as we prepare them please—"
"Worry not kind sir, I only wish to enjoy your marvelous Tea… I do not expect any special treatment and please leave your doors open, I think I'll talk a spell with some of my constituents. As for your tea.... I'd like to try a bit of everything if you will.."