---
^
Hover Over Text
^
Latest topics
»
A Rank Exam.
by
Darksouls
Wed Mar 22, 2017 3:00 pm
»
SG | Role-Play Rules
by
Admin
Wed Mar 22, 2017 1:43 pm
»
Sharingan Bloodline.
by
Darksouls
Wed Mar 22, 2017 1:28 pm
»
Scorch Release
by
Yuri Inoue
Wed Mar 22, 2017 12:42 pm
»
Kouga Nuitari Shinobi Profile
by
Nuitari Kouga
Wed Mar 22, 2017 8:33 am
»
Kouga Bloodline
by
Nuitari Kouga
Wed Mar 22, 2017 5:41 am
»
The Major Villages
by
Admin
Wed Mar 22, 2017 1:12 am
»
Clan & Village System
by
Admin
Wed Mar 22, 2017 12:09 am
»
Essien
by
Essien6th
Tue Mar 21, 2017 11:58 pm
»
Housing System
by
Admin
Tue Mar 21, 2017 11:55 pm

Name:
Roy Uzumaki
Age:
25
Gender:
Male
Sexuality:
Straight
Birthday:
10/31
Appearance: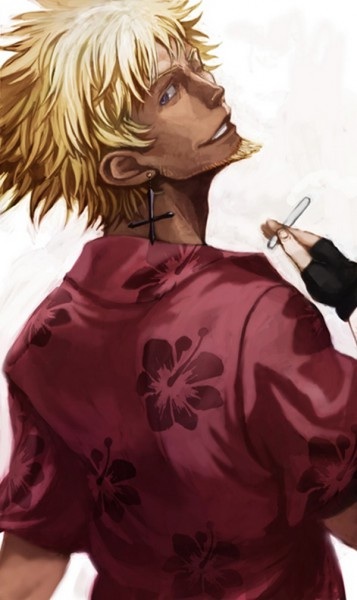 Lightly touched by the wear and tear of time, Roy is far from being beyond his springtime of youth. Roy has a head full of blonde, spikey hair, a trait bred into the Uzumaki line by Minato Namikaze. His facial hair, a single, subtle chin spike, is also blonde. Roy is slender, but highly muscular. He isn't fond of fully covering himself unless a matter of formality is presented. His general presentation is one of unbound causality. He wears a pink button up, Hawaiian flower shirt, usually unbuttoned, along with a pair of cargo shorts. On Anbu level occasions he will instead dawn his very neatly kept Anbu gear, consisting of normal flak-gear and a rhinoceros mask. Roy stands at 6'1" and weighs in at a slender 140 lbs.
Personality:
Generally jovial and carefree, Roy can be anything he needs to be depending upon the situation. He is a very flexible man with a lot of philosophical views about the world. Roy has a great sense of duty, almost to a point of unbound loyalty, but will not do anything that violates his own personal code as a man. Though he is sharp in his mind, Roy is limited to taijutsu and sealing, and thus believes to the greatest degree that a sharp mind isn't worth much without a powerful body to act as a catalyst for transmitting the mind's ideas into realities. Roy values friendships, and is a giving man, oftentimes willing to give the clothes off of his back for the sake of another.
Roy is bound by his word; One will never find Roy breaking a promise. He is in agreement with his own inner demons that a man who cannot be trusted isn't worth his mettle. Roy is an eater, known to be able to put away ridiculous amounts of food, likely due to the extreme physical exertion he puts himself through on days in which training is possible. He has also been known to put down quite a sum of Sakè on the weekends. Sometimes he even accidentally gets into troublesome instances in which he will be forced to do Anbu level missions whilst fully intoxicated. The level of physical shape he keeps himself in allows for some room for unhealthy habits, and he takes full advantage of abusing them.
Roy doesn't believe in life after death. Roy is an atheist, and doesn't believe for even a moment that after his passing that he will have any further opportunities to alter the world, so he works his hardest to do so before that time comes. Roy doesn't like speaking to other people about metaphysical views, as it always seems to spark a negatively connotated conversation. He just likes to believe the way he does, and do what he can to improve the lives of people all around him.
Likes:
Food, Alcohol, Women, Hard Work, Cigarettes
Dislikes:
People with anger issues, people who are uptight, beans, sushi
Clan:
Uzumaki
Bloodline:
Advanced Sealing/ Chakra Chains
Element:
Fūton
Specialty:
Taijutsu/Fuinjutsu
Stats:
Health:
25
Strength:
40
Speed:
45
Reflexes:
20
Chakra:
20
Stamina:
20(+10 from Uzumaki)
Village:
Konoha
Loyalty:
Roy's loyalty rests first with his friends and family, and then with his village.
Alignment:
Lawful Neutral
Rank:
Anbu
History:
When Roy was born, it was easy for the medical ninja to see that his chakra systems were malformed. His chakra was weak, but his body was strong. This was odd for a child of the Uzumaki clan, as they had larger, stronger chakra by the very nature of the clan. This was never a concern for his loving parents, for they knew that no matter what sort of shinobi Roy would grow up to be, he would always know that in order to do so, he had overcome an immense challenge. He grew up in a poorer district of Konoha, near the docks where his father would often take him fishing. His physical training only ceased when he could no longer go on, and it was like this for his entire life. The people left with the task of training him were well versed in shinobi who cannot mold chakra well. They were hellbent on making him a splendid shinobi: Having him embrace the Springtime of Youth.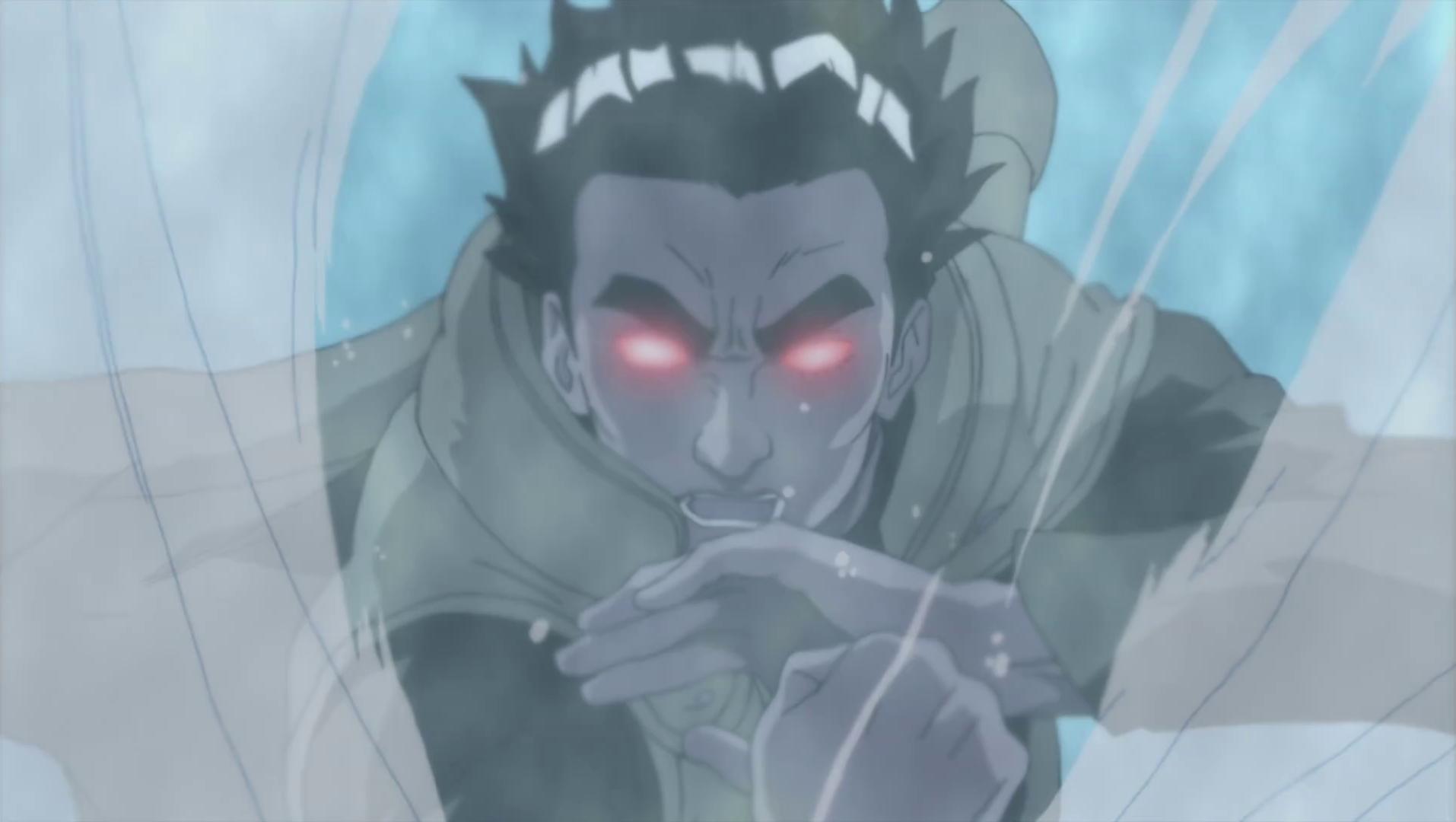 Becoming The Next Green Beast
At the age of seven Roy had learned and mastered the first five gates;The Gate of Opening, The Gate of Healing, The Gate of Life, The Gate of Pain, and The Gate of Limit. Being able to do such at an early she was clearly due to the potent blood of the Uzumaki, but it was also clear that Roy possessed a level of will power even more powerful than that. The young boy would easily excel in all things physical, and fight in hand to hand on par with Chunin and special Jounin at the age of seven(Without the use of Gates)
It was no surprise that Roy would graduate the academy very early, as they had nothing to teach him. Along the way, Roy learned his clans technique, sealing. Fuinjutsu came naturally to him, though he didn't have much chakra to dabble with it a whole lot. He took himself straight into service to the village after graduation, never failing to impress and eventually reaching the ability to utilize the final three gates; The Gate of View, The Gate of Wonder, and the forbidden Gate of Death.
With his ability set, he was no service to anyone unless working directly with the village. He was accepted into the Anbu Black Ops after issuing an open challenge to a squad of its members and singlehandedly knocking them all unconscious, destroying the training area they used entirely. He was given the title of "The Yellow Rhinoceros" and wore a mask to display that title.
With great ambitions and a bonafide Will of Fire, Roy would seek to become one of the greatest shinobi in Konoha, and he took a great amount of pride in the fact that he would be doing so with taijutsu primarily, as he idolized those who came before him who did the same. It took a splendid ninja indeed to achieve such a goal. And Roy was definitely a splendid ninja.
Family:
Taiga: Father-NPC-Alive
Aiza: Mother-NPC-Alive
Acquaintances:
(well known by most NPC in Konoha)
RP Sample:
The never-ceasing scent of sweat, and the fresh scent of blood caressed Fūten's nostrils as he sat, cross-legged upon the bed-side table in which he had just used to swiftly end the life of someone whom could be worded as none other than a nuisance. An annoying worm which pokes to the surface too soon, amongst a murder of crows. Fūten was meditating, and visualizing in a wonderful flashback, all of the men he had slain in this place. The most recent came forth to him immediately. His mind brought it all to him with great speed. It went a little something like this.
___________________________
Fūten sat, legs crossed, eyes closed, within his cell. His cell mate was grunting loudly, using a side table as a bench press. It was beginning to annoy Fūten. This was his fourth cell mate in the past month. The guards had taken to placing bets on each one they threw in with him, knowing that he has no tolerance. They threw pedophiles and rapists in with him for the most part, caring little about their fate.
Fūten uncrossed his legs in irritation.
"Aargh, uuuh" the man grunted some more.
Fūten raised his leg above the side table, which was heavy enough to cause the plebeian to struggle with, then slammed down with impressive force in a guillotine drop. The table crushed the mans head with relative ease, but the kick was finely tuned enough that the table was unharmed. Fūten climbed up on top of the table, which blood was running out from beneath, and continued his meditation.
this.
___________________________
That had only been about twenty minutes ago. The guards were all disappointed. They traded bet money, and then opened the cell door. The one who had lost and didn't have the ryo to pay up was the one who had to enter the cell. He was terrified. Fūten could see the fear in his eyes, even being armed with the heavily destructive equipment,  the man knew terror when he saw it. And Fūten was terror.
The man quivered and stammered. "115, p..please stand up and back up toward me slowly. Regular procedures."
Fūten grinned and obeyed, moving very slowly and almost with belligerence. He wanted the man to feel uncomfortable. He wanted these people to understand. To comprehend. He wanted to leave this place and serve a true purpose. The untimely demise of patient 227 would have to be looked over by the three supervisors. They lifted the side table and as they did, small fragments of gore and skull dripped from the bottom, like lifting a shoe from a smashed insect.
Fūten began to speak to them.
"When will you release me? How many more have to die? Can you not hear it in my voice, can you not see it in the writing on the walls? I am not insane, I am just not destined to remain here. I would do better at the side of an important official, not a pedophile, or rapist who lost his mind long ago. You need consult your Kage on what to do with me, as I will be leaving here one way or another very soon. Bring him to me as soon as possible."
Fūten turned around, his chains now unlocked and his hands free. He stood and watched them, not moving. They cleaned up the floor of the cell with a suiton technique, and removed the body. Slowly latching the sell door behind them.
Fūten returned to the bedside table. Sitting down upon it, and crossing his legs. Meditating. This was what he often did, it was an easy way to allow time to pass around oneself, rather than pushing oneself through time.
Other Characters:
None
Projected Activity:
A lot
Last edited by Roy on Thu Apr 24, 2014 11:48 am; edited 1 time in total
Black Ops




Posts

: 10


Join date

: 2014-04-13



Black Ops




Posts

: 10


Join date

: 2014-04-13



I would like to see another paragraph or so in history, then I'll approve.



Posts

: 94


Join date

: 2014-04-15

Character Sheet
Ryo: 3000
Chakra:


(100/100)






Posts

: 94


Join date

: 2014-04-15

Character Sheet
Ryo: 3000
Chakra:


(100/100)





Similar topics
---
Permissions in this forum:
You
cannot
reply to topics in this forum